The Queen of Halloween | Plus Size Costume
This post may contain affiliate links. Affiliate links allow me (Maggie!) to earn commissions on items I recommend. But don't worry, all opinions are my own.
Happy Halloween, my plus size ghosts and ghouls! Did you know there's a Hocus Pocus marathon on Freeform today? There is! Go watch it after you read this stunning blog post! Halloween has always been my favorite holiday, even when I was a little girl. While the other girls were dressed as genies and princesses, I wore the scariest werewolf mask and made my mom sew fake fur into the cuffs of a flannel shirt. Scary is always the name of the game. Now that I'm older, scary has become more sophisticated.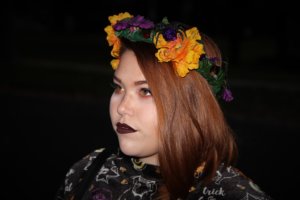 This was the first year of my adult life I truly was able to go all-out for Halloween. Last year I had to drive a long commute and didn't have time to celebrate or enjoy the holiday. The year before that I had just moved into my first apartment in the middle of nowhere with no family and few friends nearby. I was so excited for Halloween this year that I've literally been planning it since June. So you can imagine I might be a little sad that it's over!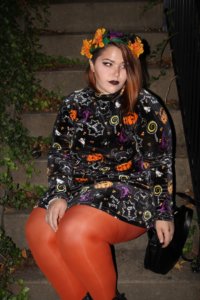 Of course, if I have to go, I'm going to go out with a bang! I was just going to wear my new Halloween dress from Target to a party this weekend when, two hours before we had to leave, I was struck by inspiration. All this month I've been calling myself the queen of Halloween. Why not go as who I am? So I whipped out my hot glue gun and slapped together a Halloween flower crown with items I already owned (I'm a regular Martha Stewart, I tell ya) and did some seriously festive makeup. The result? Magic.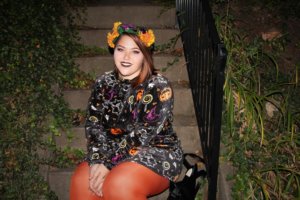 Sometime the best costume is just being your truest self! And my truest self happens to be a smokin' hot Halloween goddess. But you knew that, right?
Happy Halloween!

---